6 years ago
Comments Off

on WP PK Story #6: Meet Maavuz Saif — Full Stack Developer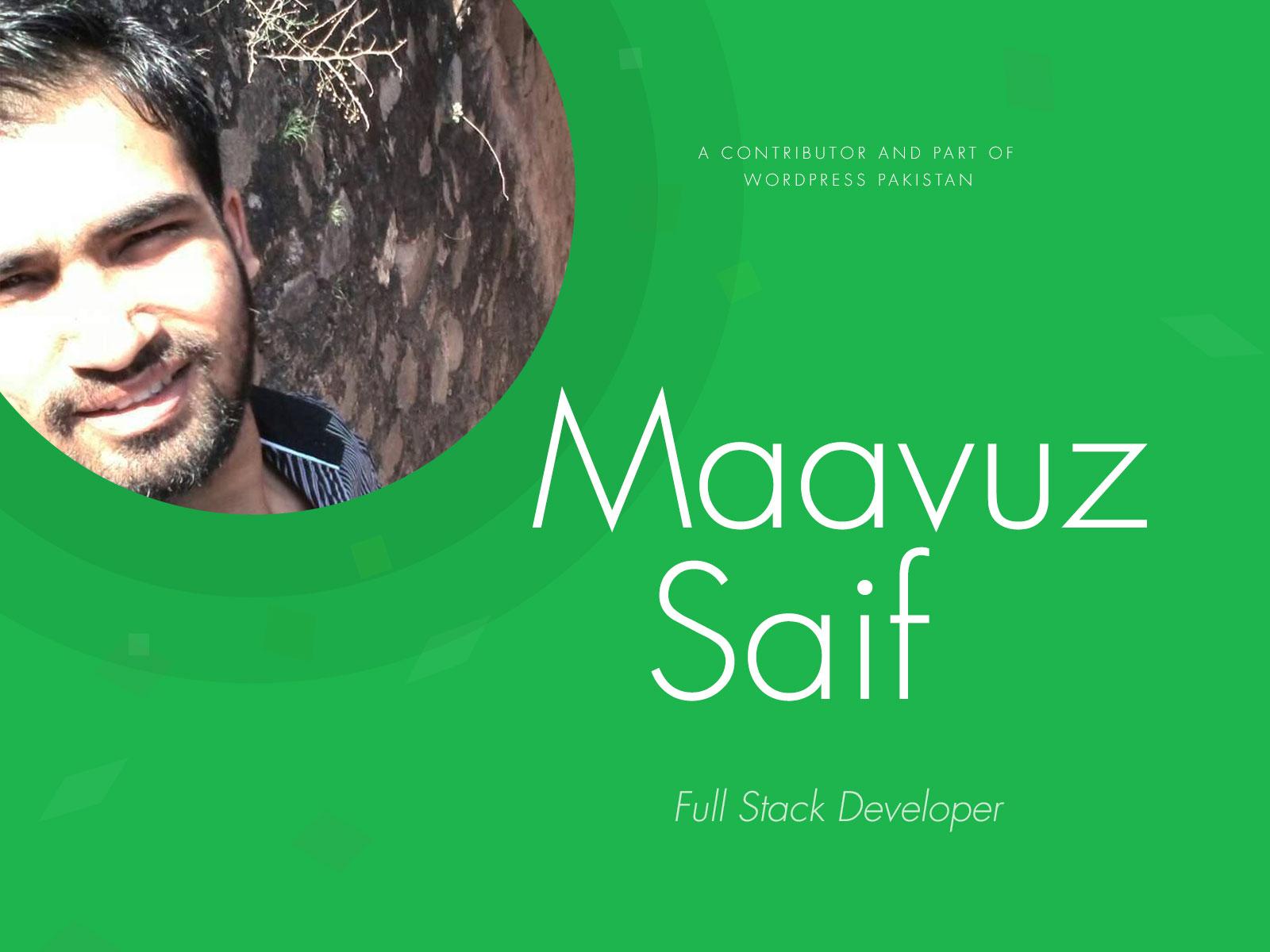 1. Can You Tell Us a Little About You? How Are You Related to WordPress?
Maavuz Saif, I am a self-taught full-stack developer who specializes in WordPress. In the starting days, without any proper teacher except online sources, I started to learn HTML/CSS and got an internship in a local software company.
After some time, I began working with WordPress and fall in love with it. And it's been four years working WordPress. It is everything for me, pays my bills.
2. Have You Contributed to an Open Source Software Before or Was This Your First Time? How Was the Experience?
Though I was desirable, I never contributed to an open source software before. I got my inspiration to join and challenge myself to avail the opportunity, when one of my facebook friends, Ahmad Awais was inviting developers to join him. It was a great experience for me, indeed.
Currently, I am contributing to WordPress support forums, and have plans to contribute in WordPress core someday.
3. What Motivated You to Contribute, Why You Wanted to Do That, How Did You Decide to, Spend Your Weekend Contributing for WordPress?
As a self taught WordPress developer, having no proper learning sources except Google and WordPress forums, I decided to return the favor to WordPress community, by contributing my valuable experience with WordPress community globally. I spent my weekend contributing to WordPress.
4. Why Do You Think We Should Contribute? What Is Your Message to People Who Would Want to Join Us Next Time?
We should contribute our knowledge, in order to educate others, and get the most out of other's professional experience, so that everyone will be able to add a positive addition to his WordPress career as well as contribute to a global wordpress platform. Here is why everyone should contribute to open source
To give something back to community
To Get to Collaborate with Really Smart People
It's Interesting and Challenging
It's a Great Opportunity to Learn Something New
It Looks Good on a Resume
It Doesn't Have to Be Code
My message to the people who would want to join us next time is, join and involve others with your ideas, solve the problems and form a well-balanced relation base where people can learn new things as well as contribute to the whole WordPress community.
5. (Optional) Anything You Might Want to Add?
Yes, I think it is necessary to mention Mr. Ahmad Awais here, who put much efforts in gathering all of us, who put us together as team, helped newbies, wrote instructions, made spreadsheets, answered our questions and the list goes on… Thank you Ahmad 🙂