6 years ago
Comments Off

on WP PK Story #8: Meet Kashif Rafique — Freelance WordPress Developer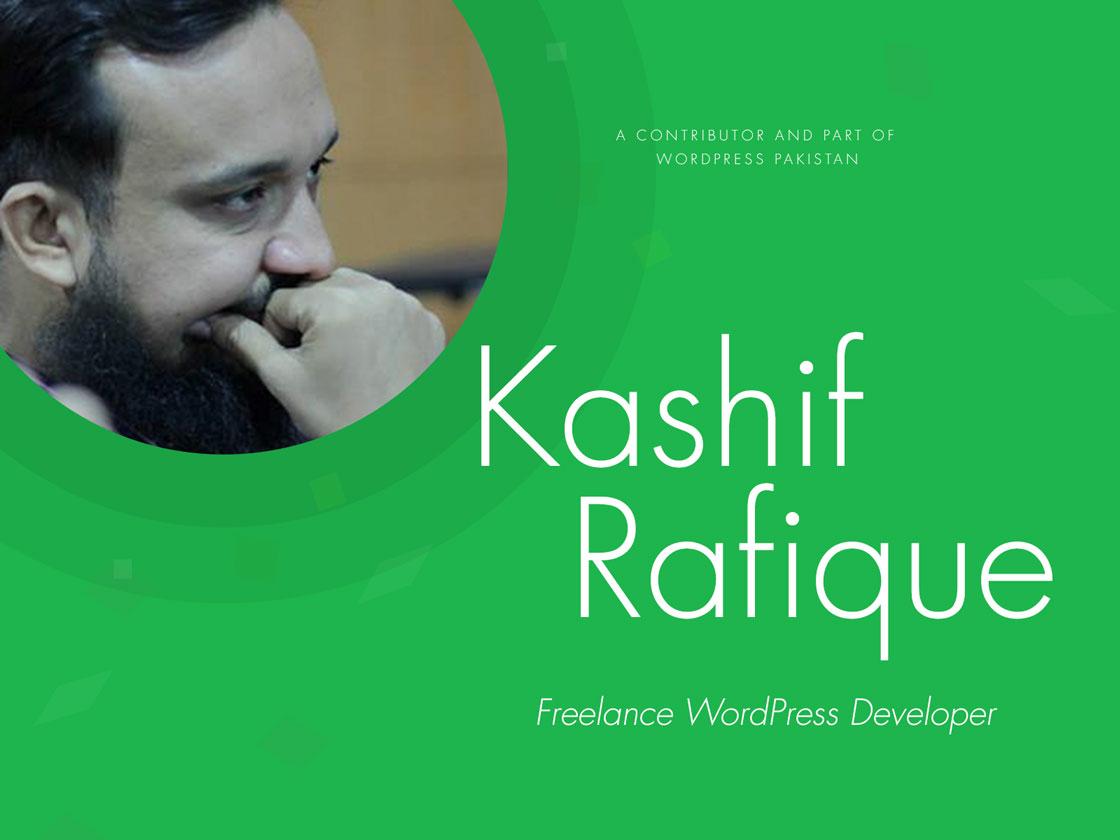 1. Can You Tell Us a Little About You? How Are You Related to WordPress?
I am Kashif Rafique working as a Freelance WordPress Developer. I have diverse skills and experience of finance, supply chain, IT governance and web development. I have no formal CS qualification and expertise. I was a finance cum supply chain person with a degree in commerce, having 5+ years of experience managing SAP Material Management module for IT Group in KE (formerly KESC).
My first interaction with WordPress was back in 2006 when I used to post tech news in a private community. Initially, I used WordPress as a publishing tool but later switched to development side. Before starting WordPress, I did not have any programming/development knowledge and experience.
The nice and helping online community comprises of blogs, tutorials, Codex, WordPress Support forum and Stack Overflow helped me in exploring and learning the basics of web and WordPress development.
I learned HTML, CSS, PHP and other allied techs. All of this learning gave me the confidence to start freelancing as a part-time job in 2009-10 while keeping my day job. During last five years, I have won many long term clients and established rapport with them.
Long story short, I left my full day job, moved to Lahore and now working as a full-time freelance WordPress developer. It is true that I am making a living from WordPress, and it also allowed me to increase the life standard of my family.
I am always thankful to those awesome people who always helped and guided me in this field: Amanat Ali Gohar, Alamdar Hussain, Muhammad Abdul Qudoos, Hassan Latif Mughal, Rehan Allahwala, Rehan Sheikh, Kamran Shafi, Kamran Zahid and Ahmad Awais.
2. Have You Contributed to an Open Source Software Before or Was This Your First Time? How Was the Experience?
I used to post on the WordPress Support forum and Stack Overflow mostly for getting help. I have made a small contribution to this event. I would consider this as my first formal contribution to WordPress, and I enjoyed it.
I learned some new things, developed confidence and interacted with new people. It also gave me a chance to connect with the like-minded individuals. Overall this is a great and rewarding experience for me.
3. What Motivated You to Contribute, Why You Wanted to Do That, How Did You Decide to Spend Your Weekend Contributing for WordPress?
I am part of many WP groups where discussion about open source contributions is a regular thing. I always wanted to help the community as you and others, but never took the initiative because of my shy nature. FB status from Ahmad Awais and the article encouraged me to take the action.
I felt this is the right time to begin this journey with many other like-minded people who are also doing it for the first time. Knowing how to reach you and other senior guys, in case if I need help, is another confidence booster.
4. Why Do You Think We Should Contribute? What Is Your Message to People Who Would Want to Join Us Next Time?
I learned a lot during this weekend and met some new cool persons. I observed that most people coming to WordPress support forum had small issues which can be fixed easily in few minutes with the help of a knowledgeable person. Sometimes, such people wait several days to get the advice. Our small contributions could make their lives a lot easier and save their valuable time.
Giving back is the most rewarding thing in our life. Our beloved Prophet (PBUH) also taught us to help the others in our capacity. Giving away our time and talent sincerely without any personal gain is also fall under generosity, which is one of the dearest things to ALLAH (SWT).