7 years ago
Comments Off

on WordPress Pakistan brings WordPress Week Lahore 2014
Philosophy
The main objective behind the initiative of WordPress Pakistan is to build a community of WordPress developers, designers and bloggers who will contribute to the WordPress community on global context, sharing the mutual love of WordPress.
Why WordPress in Pakistan?
The mere intent of WordPress in Pakistan is to attract new programmers, marketers and project managers to enlarge their scope as well as the subject's purview through online presence. As per fact, there are more WordPress users than Twitter users in Pakistan. WordPress Pakistan will allow to act as a compact whole which in return will become a platform. The WordPress community provides a platform to more than 1 million WordPress developers, designers, bloggers and end users to create the biggest niche specific group of Pakistan.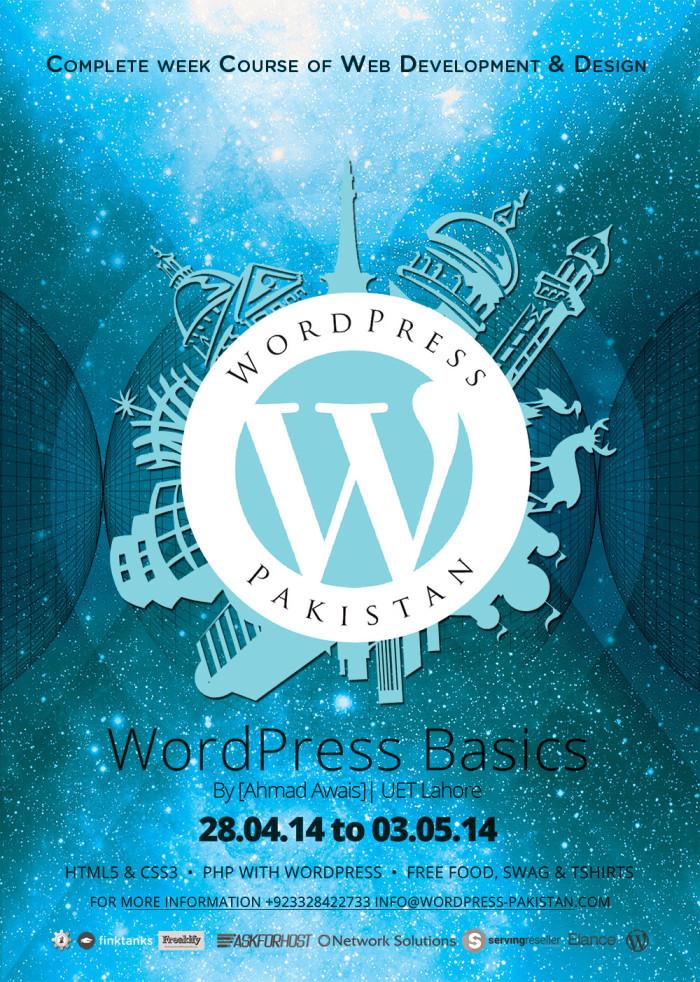 WordPress Stratagem
WordPress Pakistan will act as a portfolio for all the people who live and breathe WordPress. It will let the designers and developers to show off their skills and brag about their products and experiences. It is almost 75% complete, hasn't been launched officially yet but we already have 25 designers and 300 developers, more than 6000 people engage with WordPress Pakistan's philosophy in one week. A platform provided to authenticate rather hidden skills of Pakistanis.
Notable Precise Details
WordPress is a nightly build open source script (CMS) covering 44% of its use in worldwide CMS use. It powers more than 20% of all websites, 98 versions has been introduced since its creation in May 2003, 1 million WordPress websites.
It is used by some of the very reputed and famous web sources for articulation and coverage of different focused information and topics. A list of some of those online sources:
Tech Crunch
NASA
NFL
Honda
Sony
Topgear
Forbes
Ebay
CNN
The New York Times
Reuters
Ford
WordPress Word Is Out
Owing to the stats and figures, we are trying to introduce our Computer Science and Engineering students not to an idea but a philosophy "WORDPRESS PAKISTAN"
We intend to target a massive group of Pakistani students, people and professionals who are wishful and are interested to willingly work in, out or around this PHILOSOPHY. Our target audience includes:
CS students
CE students
Students of BA and BBA
Marketers
Bloggers
Small and medium business enterprise owners
Pakistan's commerce economy
Startup founders
Brand and reputation strategy consultants
Potential boilerplate generators
Recruitment opportunities
Word of mouth
Women's empowerment
Successful WordPress entrepreneurs
WordPress success stories
Theme junkies
Code wranglers
Copy righter
Target Universities
University of Engineering and Technology, (LHR, KSK, RCH, MUL campuses)
Lahore University of Management Science, Lahore
University of Management and Technology, Lahore
COMSATS, Lahore
Punjab University College of Information Technology, Lahore
National University of Science and Technology, Islamabad
National University of Emerging Sciences, Lahore
Note
The images of posters you see above were an earlier iteration and later on learning more about how a non-profit WordPress company should work (when private WordPress events rules were announced) we stopped using the WordPress logo and updated everything to use our Worwox Group logo by their permission everywhere, including posters, T-Shirts, and all. This is the new logo we went with: